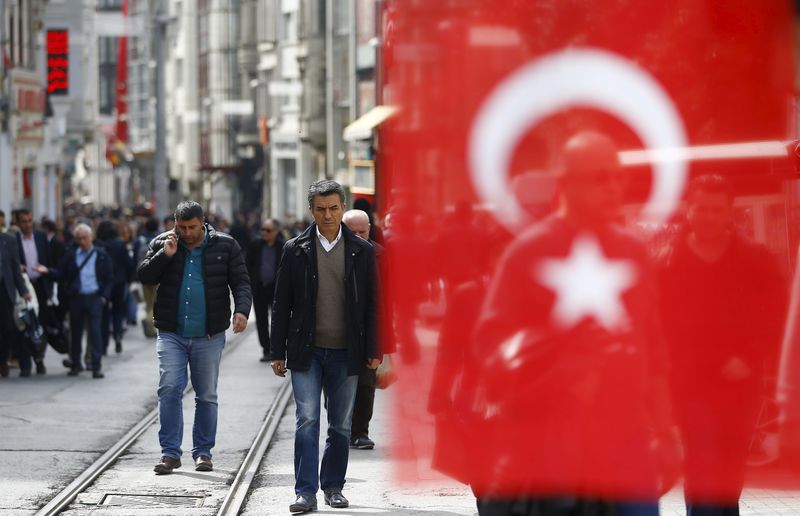 © Reuters. Top 5 things to know today in financial markets
Investing.com – Here are the top five things you need to know in financial markets on Monday, October 9:
1. Turkish Lira, Stocks Plunge Amid Visa Stand-Off with U.S.
Investors dumped the Turkish lira, while the country's main stock market fell the most in more than a year, amid an escalating political standoff between Istanbul and Washington.
The U.S. mission in Turkey and subsequently the Turkish mission in Washington mutually scaled back visa services after a U.S. consulate employee was arrested in Istanbul last week, in the latest sign of fraying diplomatic relations between the NATO allies.
The lira tumbled 5% at one point against the dollar to 3.8060, the lowest in seven months, before clawing back some losses to 3.7104, down about 2.5%.
The BIST 100, Turkey's equity benchmark, fell nearly 5% in the opening minutes of dealing to trade at the lowest levels since early July. It was last down 3.6%.
Shares of Turkish Airlines (IS:THYAO) were one of the benchmark's biggest losers, falling around 9%.
2. Spain/Catalonia Crisis Fears Ease
Spanish stocks rebounded and government bond yields fell, as worries about the situation in Catalonia eased off after Sunday's demonstration against independence.
A crowd estimated by local police to number 350,000 took to the streets of Catalonia's capital Barcelona on Sunday to express their opposition to declaring independence from Spain.
Meanwhile, a senior member of the Catalan administration called for dialogue with Spain, while Spanish Prime Minister Mariano Rajoy pledged that "national unity will be maintained" by using all instruments available to him.
Spain's IBEX index of the country's 35 biggest stocks rose by as much as 1.2% in the opening hour of trading in Madrid.
3. War of Words Between U.S. and North Korea Continues
Investors continued to fret over simmering tensions between the U.S. and North Korea as a war of words between the two countries escalated over the weekend.
North Korea's leader Kim Jong Un said his nuclear weapons were a "powerful deterrent" that guaranteed its sovereignty, state media reported on Sunday, hours after U.S. President Donald Trump said "only one thing will work" in dealing with the isolated country.
Trump did not make clear to what he was referring, but his comments seemed to be a further suggestion that military action was on his mind.
Meanwhile, Republican U.S. Senator Bob Corker warned on Sunday that President Trump risks setting the nation "on the path to World War Three" in an interview with The New York Times.
4. Embattled May to Meet with Business Leaders to Discuss Brexit
Britain's embattled Prime Minister Theresa May will meet with executives from GlaxoSmithKline (LON:GSK), Vodafone (LON:VOD), HSBC (LON:HSBA) and other major companies to hear what they want from talks on Britain's relationship with the European Union after Brexit.
Companies attending will also include Balfour Beatty (LON:BALF), WPP (LON:WPP), Morgan Stanley (NYSE:MS) and AB Foods (LON:ABF), the government said.
May will be joined by finance minister Philip Hammond, business minister Greg Clark, minister for exiting the EU David Davis and trade minister Liam Fox at the council.
The pound was a shade higher against the dollar and the euro on reports May could sack Foreign Secretary Boris Johnson as she tries to reassert her authority after a series of political disasters.
Sterling has recently been on the back foot amid speculation that May herself could be ousted ahead of crucial Brexit talks between Britain and the EU.
5. Global Stock Markets Continue Higher
World shares hit their latest in a run of record highs, supported by optimism about global growth.
Asian-Pacific equities closed mostly higher, with China's blue-chip CSI300 index climbing to heights not seen since late 2015, though several major markets in the region, such as Japan and South Korea, were shut for holidays.
Meanwhile, European shares were slightly higher in mid-morning trade, with Germany's DAX touching a fresh new all-time high.
On Wall Street, U.S. stocks pointed to a modestly higher open, with the major benchmarks up around 0.2%. Trading volumes were expected to remain thin, with most banks and federal institutions closed for the Columbus Day holiday. That also means no major data releases are on tap for Monday.
sponsoredArticle = 'div-gpt-ad-1466339494851-0';